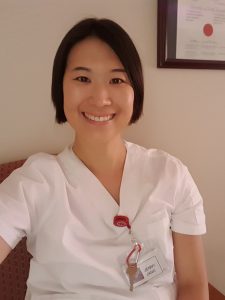 Progress towards your own goal
I am Jiyoung Jang and I was one of the students at Peak college.
It's already been two years since I graduated from the personal support worker course at Peak college. In the beginning of this course, I was more scared and anxious than excited for the new challenge. At that time, I was worried whether if I could catch up all the medical knowledge related to the course and whether I could get a job, if I pass all the classes, practicum and NACC licenced exam.
Maybe we have all been through like this before facing new challenges, and you might feel difficulties if you are in the beginning of this course, and might have same emotional and processes. However, If you also follow the help the school offers like I had from the beginning, you also will succeed. You will get great scores every path of course and will get a job as a professional care giver in the field.
What I did have during my class? Firstly, the right people were willing to help. For example, when I was struggling to understand a concept from the text book, the nurse instructor took time and broke down difficult contents and helped me understand. Also, I got to hear lots of real care giver stories from the instructors' experiences.
Secondly, it was the medical environments such as, lifting machines, medical beds, mannequins that resembled real patients, and mobility equipment. You can get trained to handle all the medical stuff for patients before you jump into real-life workplaces.
Thirdly, I had great college management. The college officers helped me reschedule my classes and practicum place to fit them with my other work so that I could keep my part time job as well. furthermore, they gave me great recommendations whenever I got interviews to get a job.
Now, you might think that I just got lucky, but all my classmates who I took the course with me have achieved the goal as continuing PSWs. As of now, all my classmates including me, have gotten a full-time job at either a long-term care centre, retirement home, or an agency, very soon after we graduated from PEAK college.
If you are hesitating before a new beginning as a student at PEAK college, I would say this place is the right place to start your new career or for your second career.
Although I have had a great experience in the field as a PSW, now I face with another challenge which is RPN(Registered Practical Nurse), and I hope to get lots of support like I had at Peak college. Through graduating from PEAK college, I became more professional for patients and hope to be great alumni for the college.
Thank you for all the peak college staffs and classmates and our executive principal Judy Cohen and a special thanks to Judy Cohen for being always sincerely attentive and considerate of the students' concerns.
Jiyoung Jang
Alumni of PEAK College